Source: Dr. Tobias Ruckes
19.10.2023 •
Consolidating the Past and Shaping the Future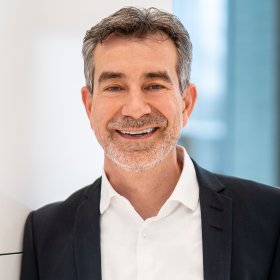 With more than 20 years of experience in marketing and communications, Dr. Tobias Ruckes is a seasoned leader in the diagnostics and life sciences industries. Dr. Ruckes is currently Head of Global Corporate Communications and a member of the European Management Board at Evident, an Olympus Corporation spin-off specializing in workflow solutions for life sciences and industry. Previously, he was General Manager at Olympus, responsible for marketing opto-digital products for medical, scientific, and industrial applications. Before that, Dr. Ruckes was Vice President of Marketing EMEA at QIAGEN, a global leader in the life science industry. Dr. Ruckes holds a Ph.D. from the Institute of Clinical and Molecular Virology at the University of Erlangen, an Executive MBA, and is a certified systemic organizational consultant.
Can you share with us the reasons behind the decision to transfer the Scientific Solutions business area to Evident, and subsequently, the transfer of all shares to Bain Capital?
T. Ruckes: The separation of Scientific Solutions from Olympus and the subsequent decision to create the new company Evident has enabled both companies to establish management structures that are appropriate to the respective business characteristics of the medical and scientific businesses and has accelerated efforts to achieve sustainable growth and improve profitability for both companies. Partnering with Bain Capital, on the other hand, helps our company to optimize our structure and processes to invest in the future and expand our life science and industry offering more rapidly.
As the Head of Global Corporate Communications at Evident, could you explain the challenges in the development of the original Olympus spin-off?
T. Ruckes: Building an independent new company with more than 4,000 employees at the time was considered a challenge and an opportunity by our employees, and they embraced both wholeheartedly. Establishing Evident was challenging as we had to create several new corporate departments and services in a brief period that were previously provided by Olympus, including IT, HR, and supply chain. At the same time building, our new company has created an opportunity to let go of processes and infrastructure that have been barriers in the past.
The nature of our life science and industrial business is fundamentally different from that of Olympus. For example, our broad customer base is much more diverse, and our portfolio spans several different technologies, with microscopy being one of the key technologies. To reduce the inherent complexity, Evident has begun to adapt its processes to better meet our customers' needs. While our name has changed, our commitment to our customers to provide world-class workflow solutions and services has not.
This has taken some time in the beginning, but we are on a very good track now and could improve.
Now that the Evident spin-off of the former Scientific Solution division of Olympus has been completed, how do you establish the new brand in the light of the strong Olympus brand? How is this being managed?
T. Ruckes: The establishment of Evident as a new and strong brand is a journey. We know Olympus holds strong brand recognition among our customers, in particular in the microscopy market. We are managing this transition in various ways, for example, visually we are still displaying both the Evident and Olympus logos on most materials and at events. We also continue to convey the message that while our name has changed, our commitment to our customers and our work in creating innovative products has not and has in fact increased.
With the replacement of the Olympus brand name by Evident, how have you addressed potential concerns or challenges within the company's workforce and among external stakeholders arising from this brand change?
T. Ruckes: I am convinced that clear and transparent communication about the benefits of becoming a standalone company has been essential to taking our staff and our customers on the journey of this transformation. These benefits include the ability to make faster decisions for our product roadmap, our infrastructure, and our processes in a way that benefits both employees and our external stakeholders. The fact that we have been able to attract several hundred new employees to Evident to build our new company shows us that we have managed to communicate this message well.
At the same time and as outlined above, we are continuously messaging our customers and partners under a new name on social media such as LinkedIn or our website.
In a dynamic industry like this, replacing such an influential brand is remarkable. How do you perceive this change as an opportunity for growth and innovation for Evident, and what are the key factors that will contribute to the successful establishment of the new brand?
T. Ruckes: Evident stands on a strong heritage of more than 100 years of technology expertise in opto-digital products in the scientific and industrial markets. We consider the positioning of our new brand a prime opportunity to reemphasize the technological leadership of our company. Therefore, we have equipped our employees, in particular those with direct contact with our customers and partners with information that supports this message: While our name has changed, we continue to work hard to deliver products and services our customers have come to expect from us. Our success lies in building on the foundation of trust and reliability established as Olympus and taking it into the future as Evident with a renewed focus on supporting our customers with solutions that solve their challenges and advance their work.
Can you share some insights into the company's future plans and vision with the new brand identity? How do you foresee Evident's role and impact in the industry moving forward?
T. Ruckes: Evident has been and will continue to be a leading provider of microscopy solutions to both life science and industrial markets. With the continuous launch of innovative solutions, we have ambitions to grow our portfolio and our market presence. Just recently, we announced our entry into the digital pathology market with the launch of our whole-slide imaging scanner, SLIDEVIEW DX. Likewise, we are offering state-of-the-art solutions in superresolution microscopy, and we are continuously expanding our offering in the research field, with AI-supported all-in-one microscope solutions.